On 14th June 2020, Downland Dance will be thrilled to welcome Robert Parker – one of the leading names in British dance and dance education – to our studios for a series of ballet master classes.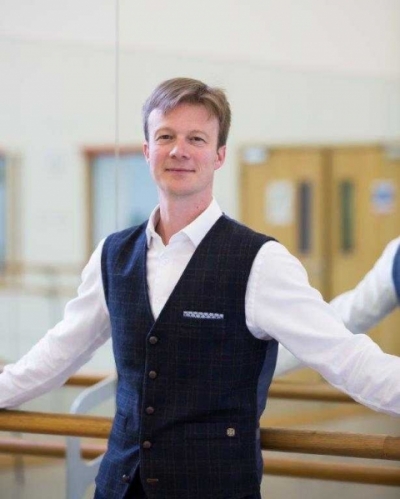 Robert Parker
Elmhurst Ballet School Artistic Director
Robert Parker trained at the Royal Ballet School and joined the Birmingham Royal Ballet in 1994, then under the directorship of Sir Peter Wright. He became a Principal dancer in 1999 where he collaborated with Artistic Director and acclaimed choreographer David Bintley to create many leading roles for the company. He made guest appearances with the Royal Ballet and performed in many Galas around the world. His accolades include a Critics Circle Dance Award nomination and an Olivier Award nomination in 2001 and a Critics' Circle Award for Outstanding Male Artist in 2003.
After retiring from Birmingham Royal Ballet he passed his RAD Professional Dancers' Teaching Diploma with distinction and completed a Master's degree in Philosophy in Education. Robert became Artistic Director of Elmhurst Ballet School in 2012. That same year he was appointed President of the London Ballet Association. He has guest taught for Ballet companies around the world and regularly invited to deliver Master classes and as a Juror member for International Ballet Competitions including a long standing relationship with the Youth American Grand Prix.
What's happening?
Robert's success both as a dancer and teacher have enabled him to develop a fun and charismatic approach to teaching, which has proven a huge hit with children and adults alike! He will deliver classes for juniors (ages 10 – 16) and seniors (ages 17 – adult), with live pianist accompaniment* at the dance studios of Aureus School, Didcot (OX11 6FF). On top of this, we are delighted that Robert has agreed to hold an informal Q&A session to give students and parents the ideal opportunity to learn just what it takes to make it in the dance industry. The Q&A session will be free to attendees of any of the scheduled ballet classes, and their parents.
Timetable**
10.00am – 11.30am: Junior Ballet Class (ages 10 – 16)
11.45am – 12.30pm: Q&A session (free to attendees of either ballet class)
12.30pm – 2.00pm: Senior Ballet Class (ages 17 – adult)
Prerequisites
Robert is skilled in delivering diverse classes, and will be able to tailor his classes to meet the standard he has on the day. The master classes will however be in open class format, consisting of free exercises which will be set on the day. To gain the very best from the experience (and make sure you have the most fun!), students should be able to learn and repeat simple exercises as they are taught, and have an understanding of the ballet vocabulary used in their usual daily ballet classes. If you are unsure whether you'd be suited to the class, please ask your ballet teacher or contact info@downland-dance.co.uk
Prices
| | | |
| --- | --- | --- |
| Class | DD Members | Non-Members |
| Junior Ballet | £15.00 | £20.00 |
| Senior Ballet | £25.00 | £30.00 |
| Q&A (FOC to attendees of either ballet class and their parents, otherwise,) | £3.00 | £3.00 |
Booking
Please use the form below to purchase tickets. For more ticket information, please click here.
DD Students – Don't forget to use discount code to get £5.00 off the listed price!
Small Print
*Pianist accompaniment subject to availability
** Timetable subject to alteration. In the case of oversubscription, the Junior class will be split into two classes of 1h15m each. The first class will be for ages 10 – 13, and the second class for ages 14 – 16.
All bookings are non-refundable.
Classes may be filmed or photographed for promotional purposes.
Countdown To Master Classes
12
WEEKS
6
DAYS
12
HOURS
29
MINUTES
46